Super Summer 2023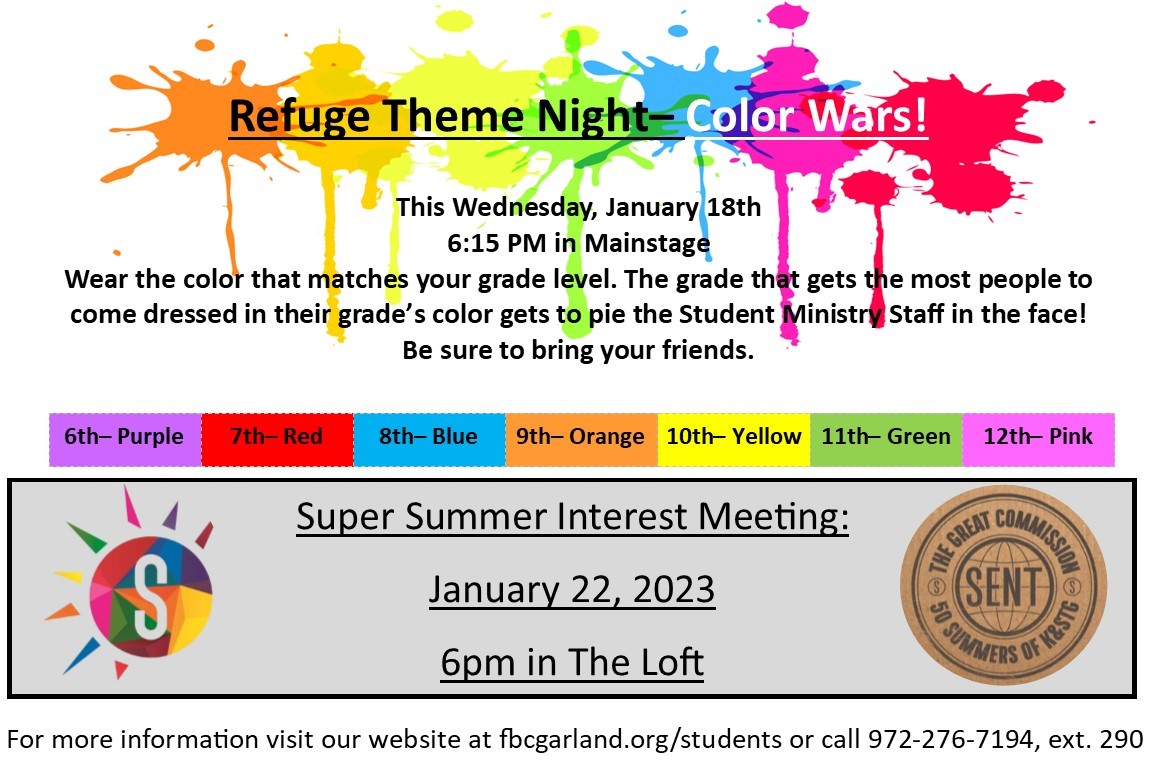 Save the dates for future Student Ministry events:
Reality Apologetics Conference: Friday, February 24 - Saturday, February 25, 2023 (Not Overnight.)


Spring Break Mission Trip: Sunday, March 12 - Thursday, March 16, 2023


Super Summer: Monday, June 19 - Friday, June 23, 2023


Youth Camp: Monday, June 26 - Friday, June 30, 2023
Check out the Student Ministry Newsletter:
Theme Verse:
"God is our refuge and strength, an ever-present help in trouble."
-Psalm 46:1
Our Vision:
The vision that God has given for us to live out in FBCG's Student Ministry is summed up in the phrase It's Not About Me. In Matthew 20:28, Jesus says to His disciples, "The Son of Man did not come to BE served, but to SERVE and to give His life as a ransom for many." The purpose of FBCG's Student Ministry is to encourage students to glorify God by serving others.


To Contact Us:
Michael Murrie: [email protected] or 972-276-5273, x290
Alyson Davidson: [email protected] or 972-276-5273, x284
Lacy Dunn: [email protected] or 972-276-5273, x291
Zachary Moore: [email protected] or 972-276-5273, x285
Sunday Morning Schedule
Both Middle School & High School Schedule
Sunday Morning
8:45 AM / Traditional Worship Service
10:00 AM / Sunday School Groups
11:15 AM / Blended Contemporary Worship Service