GRACE meets on Thursdays, September 7–November 16.
Location: 2nd floor of the MAC Building. When you get off the elevator you will sign in and we will direct you to your class.
9:00 a.m.–10:30 a.m. Bible Studies
10:30 a.m.–11:00 a.m. Prayer & Refreshments (Room 281)
11:00 a.m.–12:00 p.m. Ministries
REGISTER for a Bible study and/or Ministry.
(You are also welcome to wait to register once you've heard from all the leaders at the Preview Brunch.)

GRACE Preview Brunch
Thursday, August 31, at 9:30 a.m.

McDonald Activity Center, Fellowship Hall

No cost, no registration needed

Childcare provided

Come enjoy a brunch buffet and hear about the Bible studies and Ministries being offered this fall.
GRACE Bible studies begin on Thursday, September 7, from 9:00 a.m.–10:30 a.m.
Better: A Study of Hebrews

by Jen Wilkin – Led by Becky Allen


Cost: $16


In this 10-week, verse-by-verse study of the Book of Hebrews, Jen Wilkin explores how God "provided something better for us" in the person of Jesus Christ (Heb. 11:40). Through stories of Old Testament heroes and practices, the author of Hebrews demonstrates how the new covenant is superior to the old and how Jesus Christ is the fulfillment of every promise. Explore familiar verses in context of the entire Bible, learning how to place your hope and faith in Christ alone.

Abide: A Study of 1, 2, & 3 John

by Jen Wilkin – Led by Dianne Winter


Cost: $25 (includes online access to the Bible Study videos)


How can we hold onto assurance of our faith? How can we discern the truth from a lie? How can we know God loves us? In these three short letters, the apostle John reminds an early church facing division, deception, and doubt to hold fast to what they know and to live like they believe it. And he reminds us, as well. In this 10-week Bible study on the letters of 1, 2, and 3, John, Jen Wilkin helps you see how two thousand years later, his words call to Christians in similar challenges to recall a great salvation and to abide in the truth.

A Woman of Wisdom: Proverbs – led by Beverly Turner
Cost: $11

Description: This study on the Book of Proverbs will include material that covers specific qualities that describe a woman of wisdom. For each quality, there are vivid illustrations of biblical women who embraced or rejected God's wisdom—women who will make the proverbs come alive for you. For this study, participants will purchase the Inspire: Proverbs book, which is a beautifully illustrated journal featuring many line-art illustrations and plenty of spaces for notetaking. This book will offer a creative way to engage with, meditate on, and respond to Scripture. This is a 10-week study.




"Mentiras Que Las Mujeres Creen" Spanish Language Bible Study – led by Lucy Salazar

En este libro, Nancy expone las áreas de engaño que más comúnmente creen las mujeres cristianas: mentiras sobre Dios, el pecado, las prioridades, el matrimonio y la familia, las emociones y más. Luego arroja luz sobre cómo podemos ser liberadas de la esclavitud y libres para caminar en la gracia, el perdón y la vida abundante de Dios. Nancy ofrece el arma más eficaz para contrarrestar y vencer los engaños de Satanás: ¡la verdad de Dios! Se reunirán en el salon MAC 275.For more information on this study, contact Lucy at [email protected].
Ministries
Prayer Blankets - Create and provide prayer blankets to those who are experiencing critical illness or sorrow. Led by Cheryl Rose. MAC Craft Room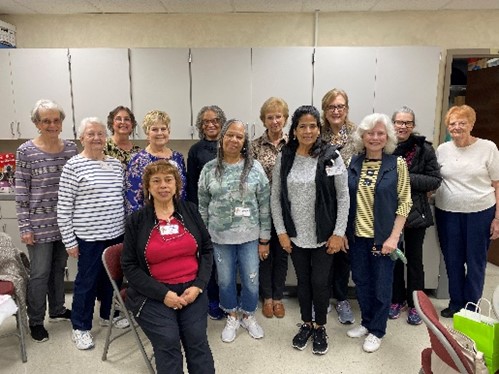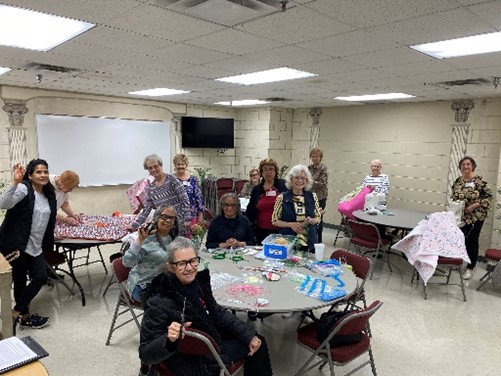 Yarn Crafters - Make shawls, baby bonnets and booties, scarves, and crocheted necklaces for the homebound and care home residents, the Friendship House, and crisis pregnancy centers. Led by April Rouse. MAC Room 273
SONshine Ministry - Write cards of encouragement for church members who are homebound, suffering from an illness, grieving, or celebrating a birth. MAC Room 276
Homebound Ministry – Visit homebound members of our church to offer prayer and encouragement.